One SCan - one click - one touch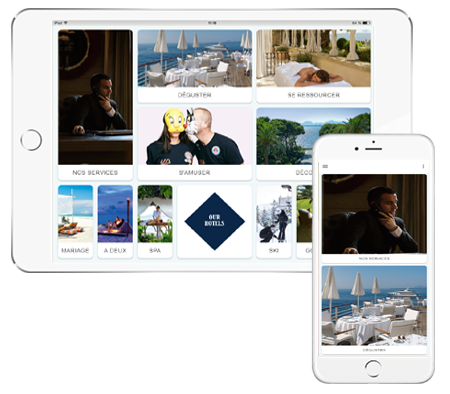 DS ONE allows you to connect your Guests, to surprise them and to offer them a quality experience.
Connect your guests, surprise them and offer them a quality experience
A fully mobile approach to the services offered by the hotel to your guests through a suite of mobile Web Apps applications available on their own devices.
It is also the ideal App to reinforce and perpetuate contacts with your customers, but also to satisfy their needs and preferences as well as possible.
Via a fully personalised web portal in the colours of your hotel, your guests/visitors will be able to use these features via our "contactless" application DSOne : Highlighting hotel services and health policy, virtual remote control, Chat, Phone, Book & Shop…
DSOne federates a set of third party applications and acts as a "conductor" for all the services of your hotel from the booking.
Access to this application will be done simply by scanning a QR Code via the Guest's smartphone.
DS One allows guests to access all the services offered by the hotel and can order or book them directly from their own mobile devices.
Be present throughout the customer journey by offering him/her:
Contactless check in check out
Contactless payment
Information about the hotel and its promotions
The discovery of your products and services
Promotions
The concierge service
This means that your hotel can be at the service and in contact with its customers 24 hours a day, 7 days a week, wherever they are on the hotel premises or outside.