Digital Hub : Discover our flexible and versatile management platform
Digital Hub : Discover our flexible and versatile management platform
An all-in-one solution to simplify your life in the hotel industry is now possible! At DirectStreams, we offer a high-performance tool that allows you to manage and use all the products sold to our customers.
Is this another high-tech platform that will prove difficult to use? Not at all! We can assure you that our products are easy-to-use. With just one training session, you can start managing your hotel's administration from the Digital Hub platform. Digital hub
Furthermore, we want to make sure that our customers can configure the products they have licensed themselves. To take your hotels to the next level of autonomy with a wealth of content, wait no longer and call on the expertise of DirectStreams!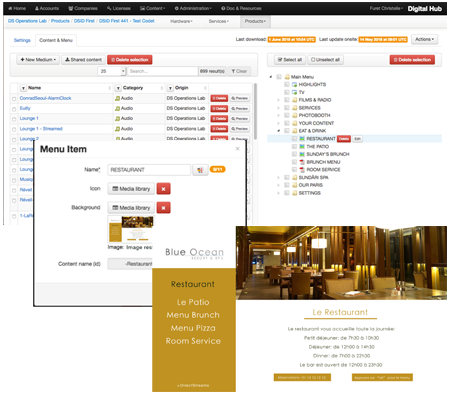 Digital Hub : much more than an interface !
DirectStreams is proud to present a fluid, powerful and comprehensive platform: Digital Hub. This self-service Cloud content management platform (CMS) is centralized and flexible to the styles of different hotels. Also, this tool is scalable allowing each hotel to build its ideal solution by selecting the services it wants to offer to its customers (Wi-Fi, Live TV, Streaming, VOD, BYOD …)
Looking to update all your interfaces in just a few clicks? It has never been easier! Each staff member can be in charge of a part of the configuration of a product. For example, one member of the team can administer the menus of the DSID graphical interface while another has the rights to modify the PDFs.
Propel your hotel by offering travelers the possibility to use streaming platforms such as Netflix, Prime Video, etc. from their hotel rooms and throughout the establishment.
Thanks to our offer, the stay of your customers will be much more pleasant with a powerful and accurate technology.
An intuitive and complete digital content management platform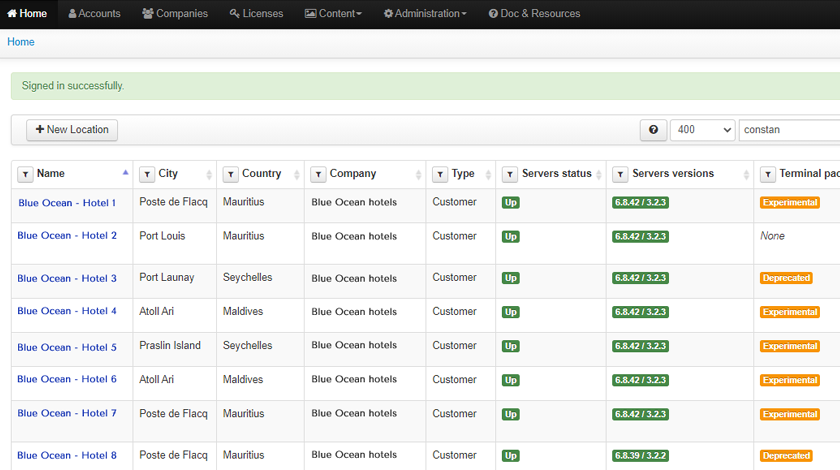 We provide a web platform that schematizes the management and publication of resources (image, audio, video, pdf, slideshow, etc.) grouped to a single pole or part of your establishment. There is no size limit for the different media contents.
In short, the Digital Hub is an efficient system that simplifies your work for a suite or for common areas.
This platform allows simultaneous management of multiple accounts and user levels (Administrator, Personalization, Support…)
Support from DirectStreams to customize your customers' interface
As an expert in the hotel industry and digital experience, we help you to realize your projects by suggesting services in rooms and common areas for an excellent quality of digital content distribution (voice, video, internet).
Personalization + autonomy = successful interface!
And to top it all off, it is possible to simply duplicate TV interfaces from one hotel to another.
That's why working with DirectStreams means opting for unparalleled creativity and know-how.
We provide design and support throughout the project
Your customers will be satisfied with the quality and reliability of the connectors
Innovative solutions to stay in the competition
Multimedia tools at the forefront of technology
Ask us for a demonstration, we will be happy to show you our Digital Hub platform and its different features.
How does our platform work ?
To get started on our Digital Hub, using Google Chrome as your browser is essential for proper operation of the medium. You can connect to it from anywhere.
Note that the Digital Hub allows you to manage several accounts and user levels simultaneously (Administrator, Customization, Support…)
1- Go to the link provided by DirectStreams
2- Enter your username and password
3- Set your password "forgot your password".
4- Browse the platform
To ensure optimal use of our service, a complete user guide is available from the Digital Hub.
Via the interface, you can directly send a message to all customers, modify the welcome page (movie, slideshow, music, message) or simply deactivate it.
What are the types of access ?
DirectStreams operates around global infrastructure administration and management of customers, partners, locations, products, licenses. This type of access can be split into access by technical teams (global infrastructure) and by business teams (customers, partners, locations, products, licenses).
Integrators manage the administration of local infrastructure
Customers control product administration (not being within the integrators' business)
Various rights holders may have view-only access such as VOD content providers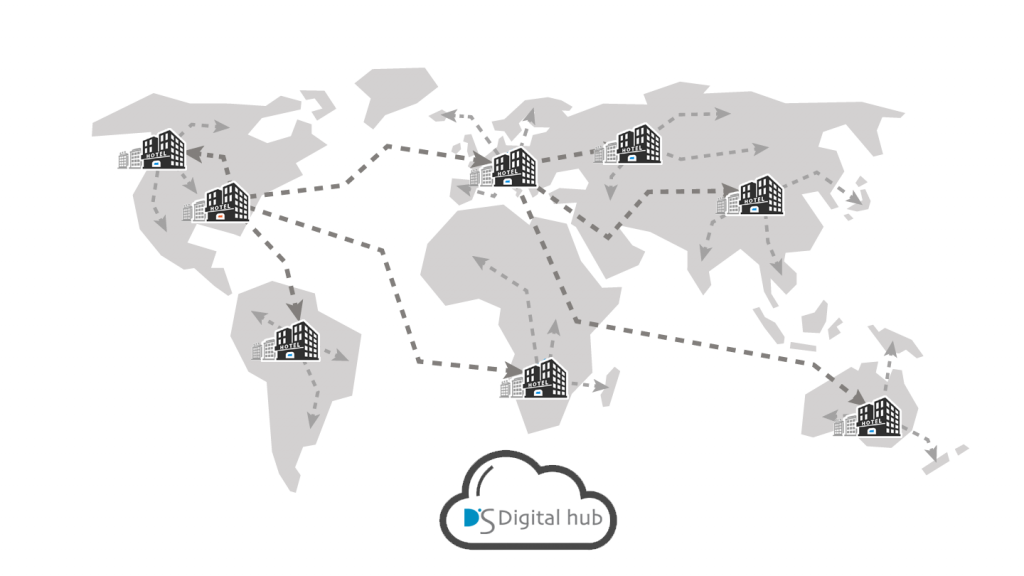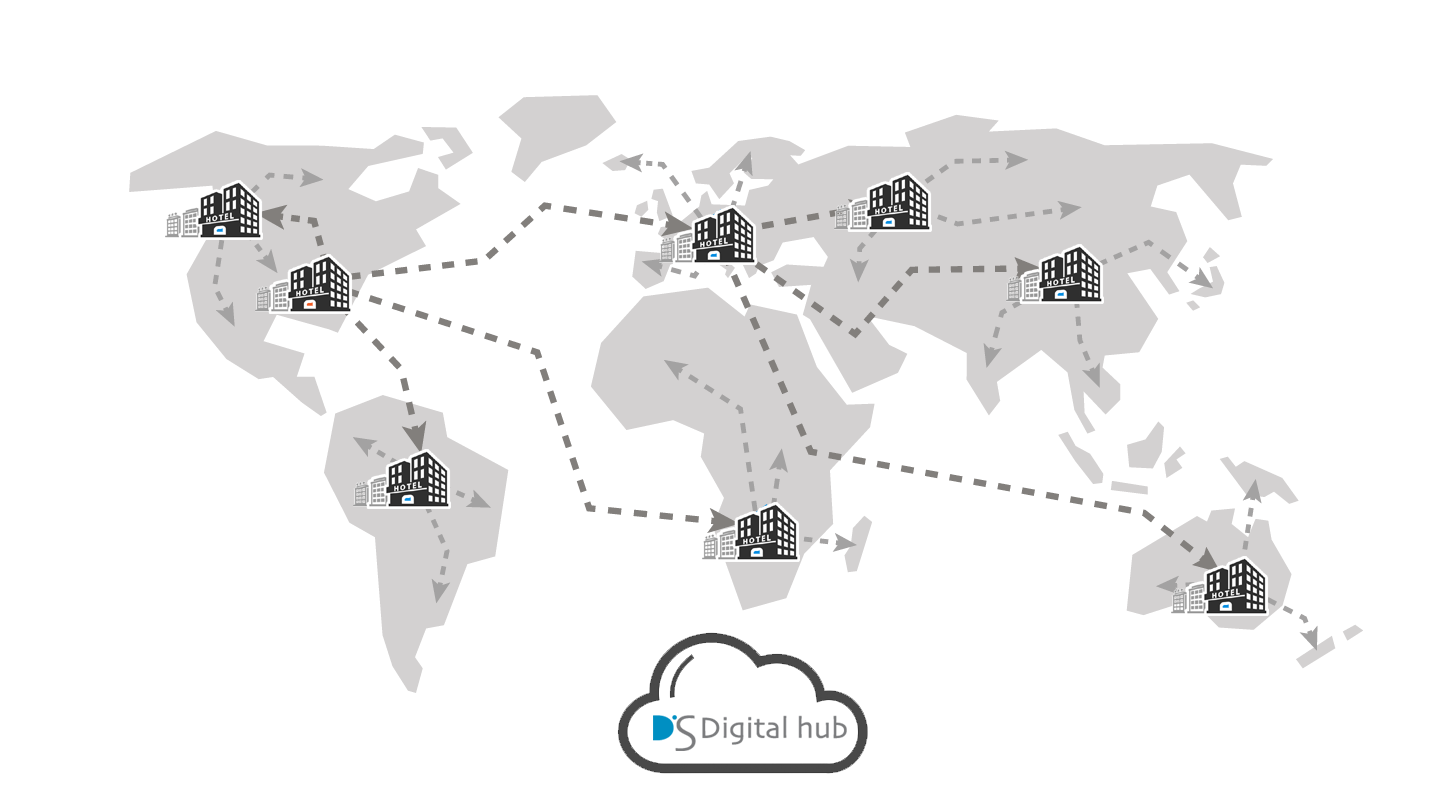 What sets Digital Hub apart ?
Our solution offers a range of services to support your infrastructure. To manage your administration, opt for an easy-to-use, fluid and aesthetic platform! Thanks to its rich content and interactivity, you will be able to offer your customers a unique platform, unequivocal content management and ease of use. Bet on both the quality and performance of our products!
Thanks to our technology, you will enjoy greater autonomy and will be able to organize the access rights for each individual profile as you see fit.
What is important to remember? Ease of use holds no secrets for you!
Digital Hub is customizable on the online back-office, a support team is ready to help you with any malfunction or technical question. 24/7, our teams are available to answer all your little worries.
Want to know more about our solution? Contact us now!
Our know-how at the service of your hotels